We've got a great lineup!
Shoals Storytelling Festival
11th Anniversary
Join us  – May 19-21, 2022!
Location:
Shoals Theatre – 123 N Seminary St. – Florence, AL 35630
Festival Hours:
The festival begins on Thurs from 7:00 pm – 9:00 pm. Doors will be open at 6:00 pm
Friday hours 9:00 am – 9:00 pm. Doors open at 8:00 am.
Saturday hours 9:00 am – 5:00 pm. Doors open at 8:00 am.
The list of storytellers who have performed at the Shoals Storytelling Festival reads like a who's who among storytellers – Donald Davis, Bil Lepp, Dolores Hydock, Carmen Deedy, Elizabeth Ellis, Andy Offutt Irwin, Kevin Kling, Barbara McBride-Smith, Rev. Robert Jones, Tim Lowry, Diane Ferlatte, Don White, Josh Goforth, Geraldine Buckley, Three on a String, Norton Dill and the Dill Pickers, Rick Bragg, Sean Dietrich, Walt Aldridge, Lenny LeBlanc, Mac McAnally, Inge Auerbacher, Pippa White, Eric Kirkman, Kate Campbell, Minton Sparks and the late Syd Liberman and Spencer Bohren.
SHOALS STORYTELLING FESTIVAL
2022 SCHEDULE OF EVENTS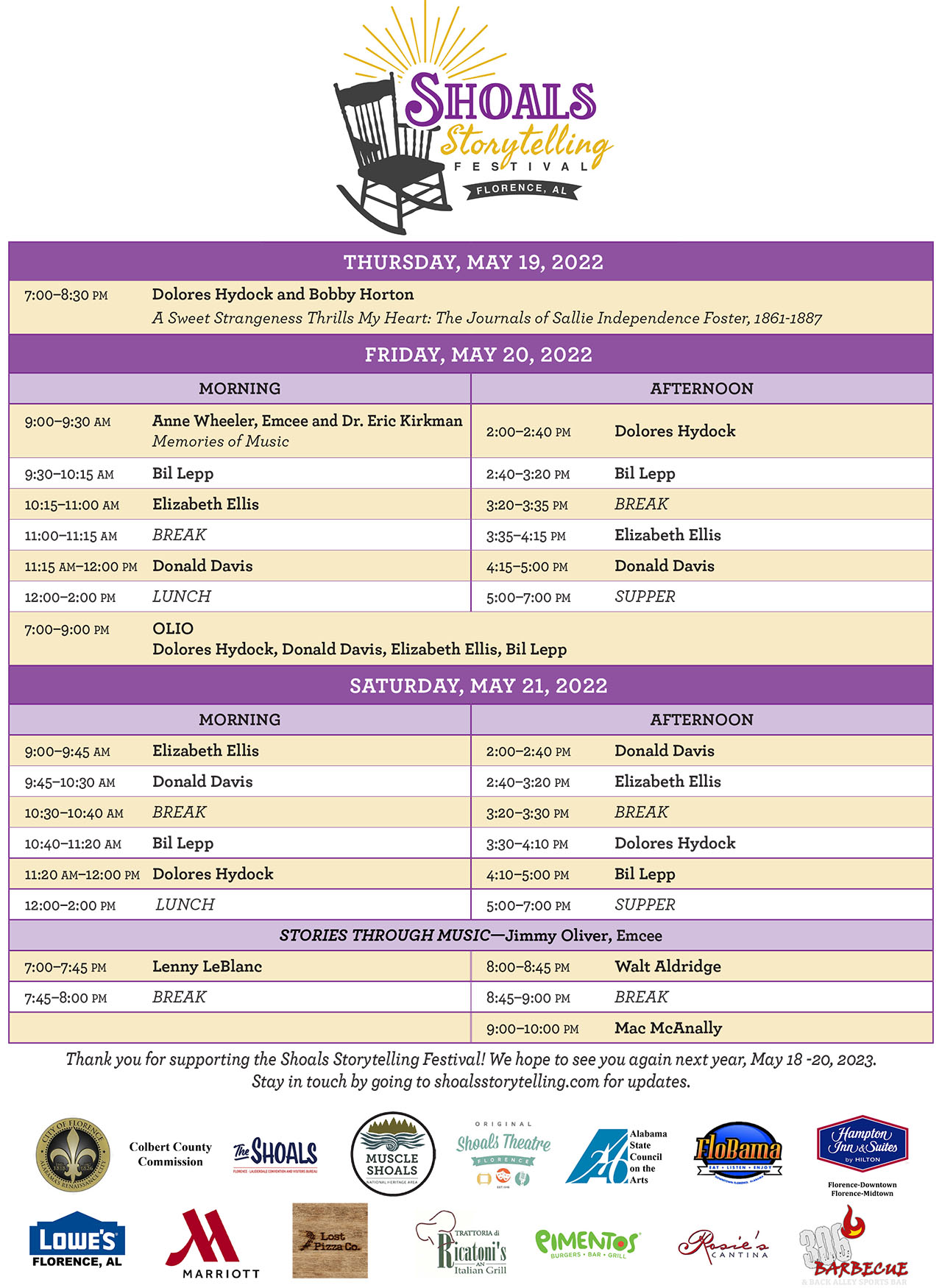 The 2022 Shoals Storytelling Festival will feature Anne Wheeler as emcee.
Anne first encountered the storytelling community in the early 2000s, when she produced Norton Dill's award-winning documentary, Kathryn: The Story of a Teller, a long-time favorite at the Shoals. A storyteller herself now, Anne has been a featured teller at the Fresh Air Festival in Hayesville, North Carolina and serves as Advisor to the Southern Order of Storytellers. She is a frequent teller at open mic and swap sessions in Georgia and North Carolina.
Anne enjoys sharing family stories, as well as Scottish folk tales and historic stories from Alabama and Appalachia. Among her longer historic pieces are the story of the Fort Mims Massacre, the catalyst that led to the final defeat of the Muskogee at the Battle of Tohopeka (Horseshoe Bend) in 1814, and the story of one of Alabama's most notorious double murders, near Sand Mountain in the late 1950s.
In addition to researching and developing new stories, Anne has spent the pandemic learning to play the Celtic harp and writing an historic novel based on family stories from the early 20th century. She shares her life with Richard Berliner, retired from UAB, and Brigid, perhaps the only golden doodle in the country named for Saint Brigid, Ireland's female patron saint.
Saturday Evenings Stories Through Music will feature Jimmy Oliver as emcee.
Jimmy Oliver will be the emcee for the Shoals Storytelling Festival/Music Program on Saturday night from 7:00 p.m. – 10:00 p.m.
Jimmy is well known as a local emcee for many events. People love and respect him. Jimmy knows our musicians personally. He is a retired, 40-year veteran of public radio.
Jimmy is currently serving as City Council Representative, Florence, AL – District 6. He is also a realtor.