The Shoals Storytelling Festival, previously known as the Front Porch Storytelling Festival, is proud to celebrate eight years of bringing top storytelling to the Shoals. Nothing brings us together like the power of a good story. Story is everywhere. In our music, in our culture, in our relationships. Not only do we have the BEST storytellers in the region, we have some of the BEST story listeners. Join us for three days of story, culture, and connection.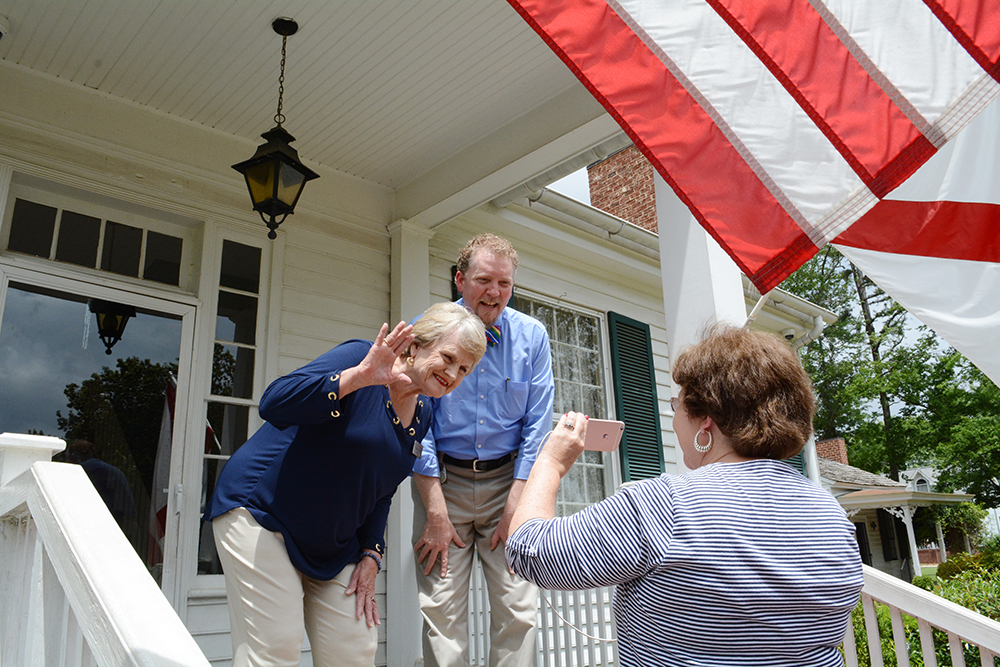 The Shoals Storytelling Festival not only provides two days of quality entertainment to the Shoals Theatre; it also brings storytelling into our schools and local civic groups. The Thursday before the festival, our storytellers visit with local students, organizations, and clubs to share the art of story. Introducing young children and new listeners to story is a passion for the festival.  We are always looking for new ways to preserve this historic oral tradition.
Check out our amazing line up of tellers:
Donald Davis was born in a Southern Appalachian mountain world rich in stories. While he heard many traditional stories about Jack and other heroic characters, he was most attracted to the stories of his own family and places of origin.  Davis begin retelling the stories he heard and then adding his own new stories to them until he was repeatedly asked to "tell it again, on purpose."
During his twenty-five year career as a United Methodist Minister, Davis began to use stories more and more.  He was also asked to begin performing at festivals and in other settings until he retired from the church to tell stories full time.
The author of eighteen books and more than forty original recordings, Davis is the recipient of both the Circle of Excellence and the Lifetime Achievement Awards from the National Storytelling Network. (ddavisstoryteller.com)
Growing up in a family where the truth was fluid, Bil Lepp became adept at spinning tales and exaggerating circumstances at an early age.
A nationally renowned storyteller and five time champion of the West Virginia Liars' Contest, Bil's outrageous, humorous tall-tales and witty stories have earned the appreciation of listeners of all ages and from all walks of life.
 Though a champion liar, his stories often contain morsels of truth which shed light on universal themes. Be it a hunting trip, a funeral, or a visit to the dentist, Bil can find the humor in any situation. Lepp explains that while his stories may not be completely true, they are always honest. (leppstorytelling.com)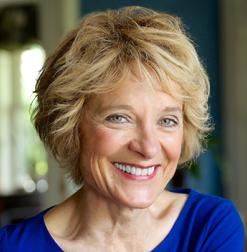 Dolores Hydock talks with her hands. And her elbows. And her shoulders. When she speaks, she is literally irrepressible." That's how one reviewer described Dolores' vivacious style that fills the stage with wit, energy, and a swirl of characters that populate her stories of family fireworks, food fads, true love, turnip greens, and other peculiarities of everyday life. She lives in Birmingham, Alabama. (storypower.org)
Tim Lowry has been telling stories of the People, by the People, and for the People for 15 years. Telling a variety of Folk Tales and Stories from American History, Tim has presented thousands of educational programs for schools across the country. At festivals Tim entertains audiences with a mixture of Folk Tales and Personal Narrative. When Tim is not on the road, he makes his home in Summerville, SC, where he often performs stories of southern culture and history from the "Sweet Tea Trail." (storytellertimlowry.com)
Kate Campbell's endearing, clear-water vocal delivery and her eloquent gift for storytelling have drawn repeated comparisons to such bastions of the Southern literary tradition as Flannery O'Connor, Eudora Welty, and William Faulkner. Her easy command of a full range of American musical styles has earned Campbell recognition as a formidable talent by critics. Time Out London proclaimed her a "major talent" while Chicago Daily Herald described her as a "world-class singer-songwriter." Perhaps Roots Time best summarized the extensive arc of Kate's 18-album career by stating, "What a great talent Kate Campbell represents is made clear by the legends in music that appear as guest artists on her albums." Emmylou Harris, Rodney Crowell, Nanci Griffith, Guy Clark, Maura O'Connell, John Prine, Mac McAnally, Buddy Miller, Spooner Oldham, and the heart of the Muscle Shoals classic soul and R&B hit-making machine are both admirers and collaborators in her distinctly literate musical vision.
Campbell has performed at a number of esteemed venues such as the Cambridge Folk Festival, Merlefest, Philadelphia Folk Festival, Port Fairy Folk Festival, Timpanogos Storytelling Festival, and the National Storytelling Festival and been featured on NPR's Morning Edition, All Things Considered, Live From Mountain Stage, and The Bob Edwards Show. Her quirky song "When Panthers Roamed In Arkansas" was included in the debut issue of The Oxford American's ultra-hip Southern Music series.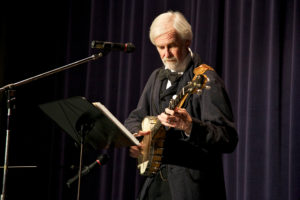 Bobby Horton is widely recognized as one of the country's leading authorities of music from the Civil War period. A seasoned performer, Horton is a multi-instrumentalist, composer, producer, and music historian. He has performed with the musical- comedy trio Three On a String, throughout the United States and Canada for 40 plus years. He has also produced and performed music scores for sixteen PBS films by Ken Burns – including "The Civil War", and "Baseball," two films for The A&E network, and twenty-one films for The National Park Service. His series of recordings of authentic period music has been acclaimed by historical organization and publications through America and Europe. (bobbyhorton.com)
Josh Goforth has performed since the age of four when he played the piano in church. But, it was a performance at his middle school by Sheila Kay Adams that caused him to start thinking about the musical heritage of his native Madison County.
His musical heritage goes back several generations. He received his first guitar from one of his great-uncles and began to learn the instrument under the tutelage of another great-uncle. His great-great-great-grandfather was Madison County fiddler Asbury McDevitt. With his natural talent, he has learned to play ten different instruments by ear and cites Arvil and Gordon Freeman as a primary influence in his fiddle playing.
In 2000, 2003, and 2005, he was named Fiddler of the Festival at Fiddler's Grove and, after winning the third title, was designated "Master Fiddler" and retired from that competition. As a young teen, he played fiddle for the movie Songcatcher, both onscreen and on the soundtrack. He has toured all over the U.S., Europe and Japan and now plays with David Holt and The Lightning Bolts which features with David Holt and Laura Boosinger. In the past he played with several bluegrass bands including Appalachian Trail, the Josh Goforth Trio, and Josh Goforth and the New Direction. He was nominated for the first time in 2010 for a Grammy. (courtesy visitmadisoncounty.com)
Storytelling Schedule for May 17, 18, & 19 2018
Thursday May 17
12PM – Lunch at First Baptist Church with Donald Davis, $5 for bag lunch
1 PM – Museum Trolley Tour – Tour the Frank Lloyd Wright designed Rosenbaum House, the newly opened Florence Indian Mound Museum, and birthplace of Helen Keller, Ivy Green with public historian, Brian Murphy. Tour leaves from Florence Lauderdale Tourism Office at McFarland Park. Tickets are $30.
1PM – Music Trolley Tour – Tour top music destinations in the Shoals with local singer/songwriter Mary Katherine Murphy. Tour starts at the birthplace of W.C. Handy, tours through the Muscle Shoals Sound Studio on Jackson Hwy, and ends with the free concert with Kate Campbell at the Alabama Music Hall of Fame. Tour leaves from Florence Lauderdale Tourism Office at McFarland Park. Tickets are $30.
2PM – Historic Walking Tour – Walk the historic streets of downtown Florence and learn its story with City Historian Billy Ray Warren. Tour begins in front of Rogers Hall (at the end of Court Street).
3PM – Free Concert by Kate Campbell at Alabama Hall of Fame
5PM – Free Concert by Josh Goforth at Florence-Lauderdale Public Library Front Lawn. Rain plans are inside, otherwise bring a picnic blanket or a lawn chair.
7PM – An Evening with Inge Auerbacher at the Shoals Theatre , tickets $10
Friday, May 18
| | |
| --- | --- |
| Time | Program |
| 8:50 – 9:00 | WELCOME – Host |
| 9:00 – 9:30 | Bil Lepp |
| 9:30 – 10:00 | Josh Goforth |
| 10:00 – 10:15 | BREAK |
| 10:15 – 11:15 | Tim Lowry -Long Program |
| 11:15 – 11:45 | Kate Campbell |
| 11:45 – 1:45 | LUNCH |
| 1:45 – 2:15 | Dolores Hydock |
| 2:15 – 2:45 | Donald Davis |
| 2:45 – 3:15 | BREAK |
| 3:15 – 4:15 | Bil Lepp – Long Program |
| 4:15 – 5:00 | Josh Goforth |
| 5:00 – 7:00 | DINNER BREAK |
| | |
| | STORYTELLER SHOWCASE |
| 7:00 – 7:30 | Tim Lowry |
| 7:30 – 8:00 | Dolores Hydock |
| 8:00 – 8:30 | Bil Lepp |
| 8:30 – 9:00 | Donald Davis |
Saturday, May 19
Time

Program

8:50 – 9:00

WELCOME – Host

9:00 – 9:30

Tim Lowry

9:30 – 10:00

Donald Davis

10:00 – 10:15

BREAK

10:15 – 11:30

Dolores Hydock -Long Program

In Her Own Fashion

11:30 – 12:00

Kate Campbell

12:00 – 2:00

LUNCH

2:00 – 2:30

Josh Goforth

2:30 – 3:30

Donald Davis – Long Program

3:30 – 3:45

BREAK

3:45 – 4:15

Dolores Hydock

4:15 – 5:00

Bil Lepp

5:00 – 7:00

DINNER BREAK

MUSIC SHOWCASE

7:00 – 7:30

OLIOS

7:00 – 7:15

Josh Goforth

7:15 – 7:30

Kate Campbell

7:30 – 9:00

Bobby Horton: Growing Up on the Mississippi